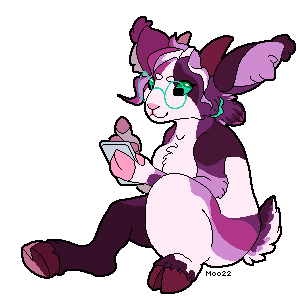 June 26, 2022: I'm prepping some art for Art Fight 2022. This year I'll be participating on Team Bloom! Peep my profile here if you're artistically-inclined.
Hey there! I'm Moo, your friendly local lesbrarian goat gal. I like drawing cats and the color pink. I fuss with my code frequently, so pardon the mess. Here you'll be able to find a gallery of my recent art, my collection of hexagonal honeycomb stamps, and a growing assortment of links that I am slowly feeding my bookmarks bar into.
Changelog
May 20, 2022: More links, new art, and some graphical tweaks. I want to add new pages next.
May 5, 2022: New look! I'm making the nervewracking transition to preprocessing my HTML with HTP. Bear with me as I smooth out the edges.
April 20, 2022: New blog post: I've decided to become a witch.
March 30, 2022: New page--Art!
March 27, 2022: New page--Links. This one in particular will always be changing and growing. I have a bottomless supply of bookmarks!
March 22, 2022: New pages--About, Blog, and Graphics.
March 20, 2022: Honeycomb stamps are uploaded.
March 16, 2022: New look!