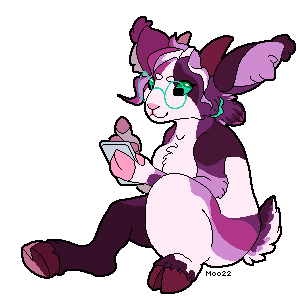 Bio
Name: Mooeena, Moo
Other nicknames over the years: Moe, Snarlkin, Snarl, Glass
Pronouns: she/her/hers
On Earth since: 1997
Online since: 2005
Time Zone: EST
Other facts: Cis lesbian. Inattentive ADHD. Millenial/Gen Z cusp. UU/Jewish. Socialist. BS in Aerospace Engineering. MLIS degree. Dabbling web developer. Eclectic artist. Mom friend.
I'm an internet native who learned Microsoft Excel before I learned to write in full sentences. I spent most of my childhood lurking on Neopets, Deviantart, GaiaOnline, and Warrior Cats roleplaying forums. I started learning to code with Neopets petpages, and I've been teaching myself bits and pieces since then. I loved all things science when I was younger, and I went to college for engineering to pursue that interest. I burnt out, hard, but graduating with that degree is still one of my proudest achievements. I'm a librarian now because I want to be able to foster that eclectic love of learning in others.
Online, you're likely to find me mostly in art circles. I drew voraciously as a kid, and I began picking up the habit again after college. I can work in practically any media besides knitting, but I mainly do digital art with Clip Studio Paint or on Oekaki programs. Cats are my first and truest love, but I also love rendering textures, painting backgrounds, and making resources for others. My favorite art to look at are colored in pastel pink rainbows and I'm a fan of adoptables and character design; I'm not very good at either yet myself, but I'm working on it! I take commissions, but my selection of samples are a constant work in progress.
Likes
Loose leaf tea
Indie games
Gardening
Guinea pigs
Dislikes
Corporations
Bigotry
"Cringe culture"
Regigigas (I am afraid of his terrible Sounds)
Fursona
That purple goat up there is Moo! She's me but fluffier. My fursona is a goat because goats love to hop on top of things, waggle their little tails, and make trouble. I'm just a kid that likes to yell.
I've been drawing anthromorphic animals for as long as I remember, but early exposure to certain influential internet forums (you know the ones) turned me off from identifying as a furry for a very long time. I thought furries were embarrasing! But some time around 2016 I realized that there was really no difference between me and the nice, weird, gay animal people I'd been following for so long. So I bit the bullet and embraced being a goat on the internet.